Deepening on Biodynamics and the secrets of amphora wines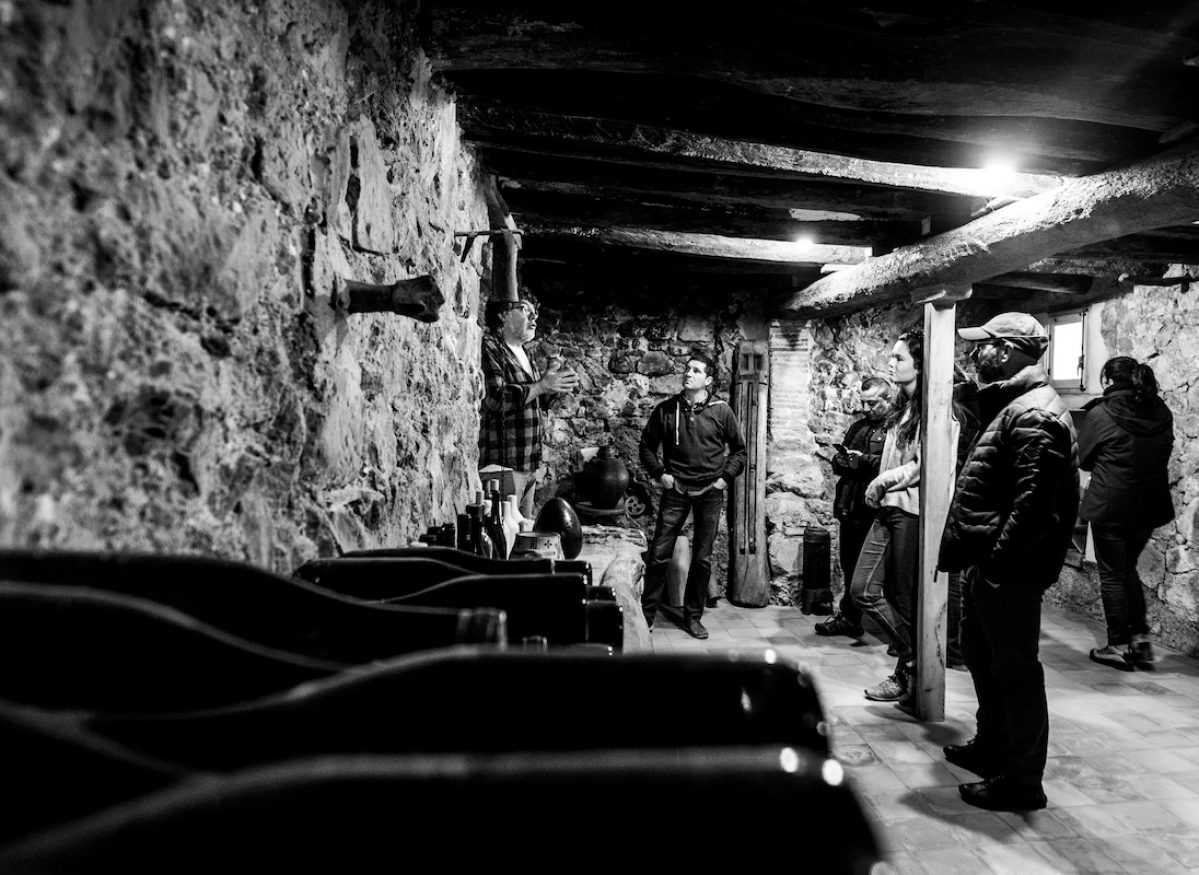 Full-day Wine Tour in Penedes wine region (7-hours aprox.)
Recommended season: all year round 
For Wine Professionals and Wine Lovers with experience in Biodynamics and amphora wines.
Tailor-made wine tour to discover the amazing concepts of Biodynamics agriculture, organic wines, and uncover the secrets of amphora wines by the hand of genuine winemakers.
An active wine club in Barcelona, which organizes plenty of wine events all year round, requested a special tour for its members. Knowing they have great knowledge of wines, we organized something singular, but at the same time challenging.
A wine tour to reveal the fascinating concepts of Biodynamics in agriculture by the hand of Joan Rubió, and to understand how it influences the organic wines elaborated. But we needed to go one step further for these thirsty wine connoisseurs and we added a visit to an amphora producer. Not a regular clay amphora maker, we looked for one of the best, the ceramist Carles, by the way, he also elaborates magnificent organic wines.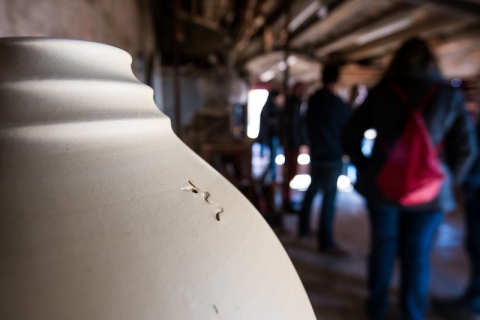 Both Juan and Carles have gained an international reputation due to its immaculate and precise work from the last years. They both elaborate organic wines, and in the case of Carles, worldwide well-known for his notoriety in wine amphora trade.
Departing from Barcelona, wine club members were introduced to the Penedes wine region and why it's becoming one of the most remarkable wine regions when we talk about organic agriculture. This historical wine country, considered to be some of the vineyards of Barcelona, has gained also a great reputation in Biodynamics thanks to some grape growers who became experts in these organic farming technics. Biodynamics can also be described as a science that deals with the energy or activity of living organisms.
Sounds deep? It's much more than that, and the participants were deeply impressed by what was learned in this wine experience.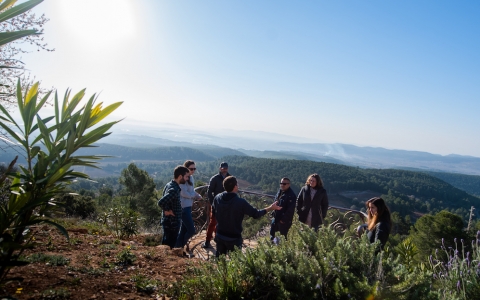 First stop was at the summit of the mountain range to admire the outstanding views of Penedes valley, a point of view called "The Penedes balcony", can you guess why?
Quickly introduction to the main varieties in this region, climate characteristics and special focus on the soil. Yes, the soil! Soil means mainly clay in Penedes, and clay is the material to elaborate the amphoras, one of the principal subjects of this experience.
The elaboration of wine amphoras it is known even before the Romans, what means many centuries of experience producing clay amphoras in this territory. And we learnt, from the hand of Carles, that clay is the key of the historical wines this region. Clay reflects the personality of a terroir, and it will entirely influence to the wine elaborated inside one of the amphoras.
We were also brilliantly taught about the fermentation process in amphora wines and how the shape or the kind of clay used can deeply influence to the wine elaborated.
Everything is linked when we talk about amphora modeling, and all this is summarized and shaped by Carles hands. No doubt, a genuine person really worth to be known and listen to.
It won't be right if we just talk about Carles as a professional, he's also the perfect host as it was arranged a breakfast at his place to pair at the time to sample his own organic wines, no labelled at that time yet. Local organic cold meat and regional cheeses with the traditional bread rubbed with tomato! Yummy!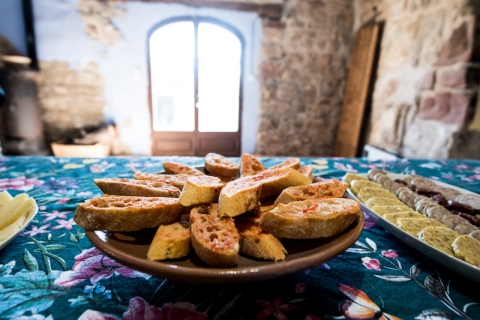 Such delicious it was, that we arranged an unscheduled stop to the close-by small village in order to get some of the organic cold meat sampled in the breakfast.
With such a delay due to shopping, we apologized to Joan, our next host.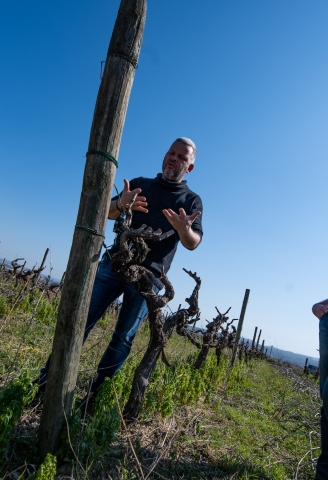 Joan is the name when we talk about wine growing and producing in Biodynamics. Learning from his hand about sustainable, organic farming that follows holistic principles and ecologically ethical practices, is really a privilege.
Listening to him is like being in a master class in the university, but in this case classrooms is his vineyard, no bad, isn't it?
We first stepped on his vineyards and we quickly realized Biodynamics is a complete different world, his vineyards looked completely different as the others on the surrounds. They were alive, plenty of energy and indications that something different was growing there. Biodynamics is really a mystic, but challenging world, no doubt!
Biodynamic agriculture is so important, but what's going on we refer to elaborate Joan's wines?
Certainly one step further! Joan uses different kind of materials to elaborate and age wines. 
His cellar is like a research and development laboratory, different models of amphoras made of diverse type of clay, oak barrels, small stain steel tanks to control manually fermentation and maceration processes, …
Truly a master class of organic wine and Biodynamic agriculture.
Wine tasting was another superior lecture about organic wines. All concepts learnt by the hand of Carles and Joan were now reflected into the glass; alive and complex wines, silky in your mouth with plenty of aromas. Not easy to express these wines in a few words.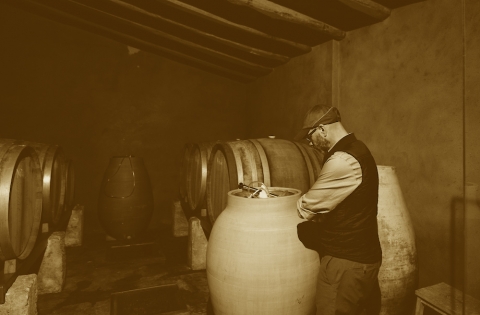 Last but not less important step, buy some wine for wine club members storage and drive back to Barcelona, being enjoyed an absolutely unique educational wine tour, meeting reputable specialists like Carles and Joan.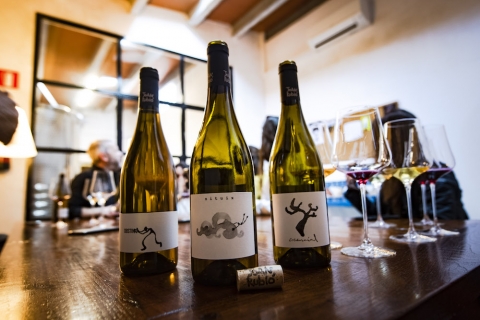 Summarize of the wine experience:
Stop at the point of view to Penedes valley
Visit to amphora producer
Breakfast with organic local appetizers
Wine tasting of Carles' organic wines
Visit to Biodynamic vineyards
Visit to Joan cellar
Wine tasting of Joan's wines